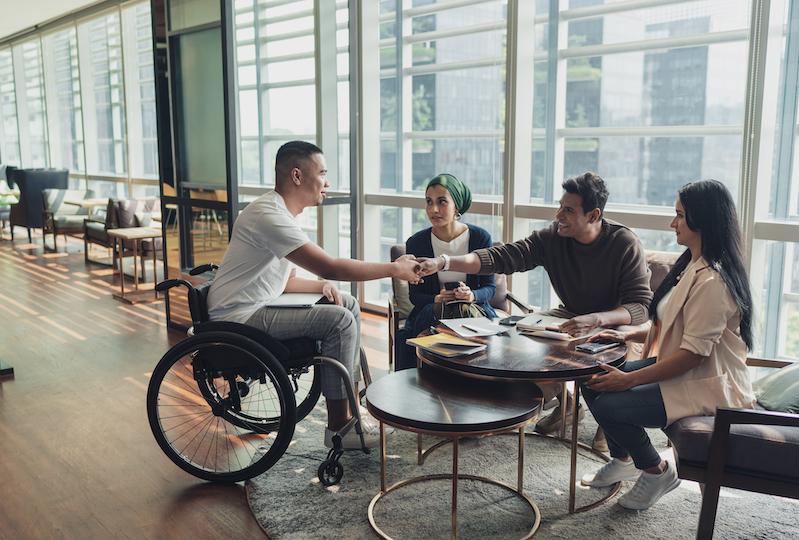 While many businesses are more aware that work-related stress can and must be managed,  burnout remains an epidemic in the workplace. According to the World Health Organization's definition of "burnout," this problem is an "occupational phenomenon." Burnout, combined with overall stress and health issues, can have a profound effect on individuals, leading to physical and mental health challenges if not addressed. Furthermore, these problems have a negative impact on work productivity, company culture, and an organization's ability to meet their objectives. It makes employees more prone to making errors, poor work performance, mental health challenges, and workplace conflict.
Employees enable a company's advancement and success, which is one of the reasons why it is critical to invest in employee health to create an ecosystem of wellness and inclusion. We're all human and even if a person strives to do their best every day, life can interfere in the form of illness, chronic stress, or unexpected circumstances.
Benefits of investing in employee health
Employee productivity is determined by their ability to manage their time to effectively concentrate on their assignments. Unfortunately, when an employee's mental and physical health is jeopardized, they may struggle to concentrate or meet deadlines, which leads to a decline in effective work.
Here are three ways in which improved employee health positively affects an organization:
Less employee absenteeism: It's important to make sure employees are feeling mentally and physically supported because excessive absences can result in lower productivity and have a significant impact on company finances, morale, and other factors. Employees in positions with high instances of public interactions are at higher risk for absenteeism, according to the U.S. Bureau of Labor.
Less employee conflict: Employees who are more fulfilled are likely to be more patient, cooperative, and willing to find solutions to conflict and challenges. When cooperation and teamwork are functioning properly, better results and services are delivered.
Reduce healthcare spending: When companies invest in employee health, they can save healthcare costs. This can be done with healthcare benefits that assist employees in managing existing conditions and preventing worsening ones to avoid higher costs and poorer health in the long run. For example, employees who receive wellness coaching may experience positive lifestyle changes that also translate to business success. According to WebMD research, having employees participate in condition management coaching led to annual cost savings of $1.1 million overall, or $1,113 per participant.
The role of Social Determinants of Health (SDoH)
More and more employers are becoming aware that social determinants of health (SDoH) can significantly affect workers' health and well-being – these are the conditions in the environments where people are born, live, learn, work, play, worship, and age that affect a wide range of health, functioning, and quality-of-life outcomes and risks. In fact, a survey from Willis Towers Watson found that 67% of employers believe SDoH are increasingly important to their health and well-being strategies.
Below are some steps employers can take to offset the impacts of social determinants:
Employers can determine if their employees are receiving adequate employee benefits through data collection. Data can be collected from a variety of sources, including through listening tours, partnering with community leaders to glean insights, and reviewing current benefits use of their teams.
Employers can examine their current healthcare benefits to determine whether they promote health equity. Employers should review which core and ancillary benefits best align with their employees' needs by assessing their health benefits designs with SDoH in mind.
Employers and payers could assist employees in improving their healthcare literacy (or creating a health literacy program if they don't have one) and financial well-being.
Using data to improve employee health
At Arkansas Blue Cross and Blue Shield, we know taking good care of employees makes our communities healthier and businesses run better. We can help you tailor health plan offerings and identify where targeted responses will get results and foster a healthier, more positive workforce. Using data, we've been able to better understand factors that impact employee health and use that information to help better inform benefit designs for employer's plans.
Your employees can also take advantage of Arkansas Blue Cross and Blue Shield case managers who help members, their families, doctors and nurses collaborate and ensure members' whole person health is being addressed. Arkansas Blue Cross case managers are equipped to support high-risk employees in finding appropriate care and resources that acknowledge the impact of social determinants.
Case management is a powerful support structure available to employees, members, and their families as they navigate the healthcare system. By identifying ways we can improve the health of those in our communities, we're continuing to focus on the physical, behavioral, and environmental factors that influence health overall – our "whole person approach" to healthcare.