More than 100 million Americans are living with diabetes or prediabetes. It's an understatement to say that diabetes management is a topic of concern for most employers, who see the condition affecting more and more employees—and there's good reason for the concern. Uncontrolled diabetes can result in poor health, higher healthcare costs and increased absenteeism. Arkansas Blue Cross and Blue Shield and its family of companies offer a variety of programs geared toward helping members understand and manage their disease and improve their health. All of these programs are included in fully insured health plans (with exception to Dental Xtra, which is a benefit for groups with Arkansas Blue Cross dental) and can be included as part of the total solution for self-funded clients.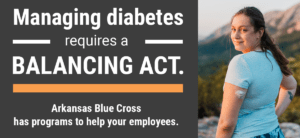 Virtual diabetes program
The Arkansas Blue Cross virtual diabetes program gives eligible members with type 2 diabetes access to an ecosystem of helpful tools and personal coaching to help lower their A1c and manage their condition. All from their smartphone. Onduo's goal is to help your employees live healthier, more productive lives. Onduo not only helps employees with diabetes get and stay healthier, but it can increase the care and support they receive managing the condition. Onduo uses state-of-the-art technology and evidence-based support to improve access to high-quality care.
Chronic condition management program
Diabetes is a complex disease. Our chronic condition management nurses are here to help and provide 1-on-1 support to members with diabetes to help them successfully manage their disease and improve their health.
Health education program
Our health education program provides information on understanding diabetes, implementing lifestyle changes, recognizing complications of the disease and includes a deductible waiver for fully insured employees who purchase lancets and testing strips through an in-network supplier. Employees also can receive a free Accu-Chek meter when they take their prescription to an in-network pharmacy.
Dental
Did you know good dental health plays a critical role in managing diabetes? With the Dental Xtra program, members with diabetes who have an Arkansas Blue Cross dental plan can receive extra dental benefits at no additional cost.
Questions?
Managing diabetes requires a balancing act. Arkansas Blue Cross and its family of companies has a number of helpful programs to help your employees strike a balance and prevent or manage this condition. Talk to your Arkansas Blue Cross representative with questions about any of our diabetes programs.