September is Suicide Prevention Awareness Month and Arkansas Blue Cross and Blue Shield is joining individuals and organizations from around the country for this important initiative. Last year, suicide was the 12th leading cause of death in the United States with an economic impact of $70 billion a year. The National Action Alliance for Suicide Prevention estimates that for every person who dies by suicide, there are another 316 people who have seriously thought about suicide but have not attempted it, and nearly 60 who have survived a suicide attempt.  These statistics can be overwhelming and may make you feel like there's nothing you can do to address it, but we want to offer a message of hope.  Suicide can be prevented. Here are some practical steps you can take to help save a life.
There's a growing body of research looking into who is most at risk for suicide, but according to Dr. Bert Price, psychiatrist and medical director at Arkansas Blue Cross, we still have a lot to learn.
"We're still a long way from predicting when someone will attempt suicide," said Price. "But we do know some warning signs to look for." The risk factors contributing to someone attempting suicide are complex, and many of the warning signs do not seem like new behaviors making it difficult for friends or family members to intervene.
If you  notice a sudden or new change in a person's behavior, particularly after a painful event or loss, this could be a warning sign that a person is in crisis and needs help now. What can you do? Call the 988 Suicide & Crisis Lifeline, available 24/7. This toll-free national number can be used for anyone who is in suicidal crisis or emotional distress.
Signs someone is in crisis:
Threating to hurt or kill oneself
Extreme changes in mood
Sleeping too little or too much
Increased drug or alcohol use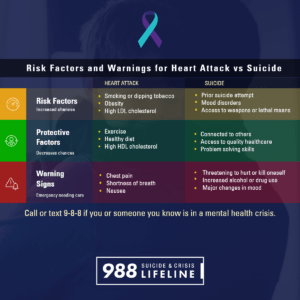 Risk factors and warnings for heart attack vs suicide. Risk factors for heart attack (increased chances): Smoking, or dipping tobacco, obesity, high LDL cholesterol. Risk factors for suicide (increased chances): Prior suicide attempt, mood disorders, access to weapons or lethal means. Protective factors for heart attacks (decreases chances): exercise, healthy diet, high HDL cholesterol. Protective factors for suicide (decreases chances): Connected to others, access to quality healthcare, problem solving skills. Warning signs for heart attacks (Emergency needing care): chest pain, shortness of breath, nausea. Warning signs for suicide (Emergency needing care): Threatening to hurt or kill oneself, increased alcohol or drug use, major changes in mood. Call or text 9-8-8 if you or someone you know is in a mental health crisis.
If you're concerned about someone, the National Alliance for Suicide Prevention and the 988 Suicide & Crisis Lifeline developed an evidenced-informed approach called #BeThe1To. They offer five steps to help prevent suicide:
Ask the person directly, "Are you having any thoughts about hurting yourself?" This lets the person know that you're open to talking about it.
Be there and help the person feel less alone. Try not to judge and listen to their reason for being in pain.
Keep them safe by putting time and distance between them and any means they could use to hurt themselves. When lethal means are made less available, suicide rates by that method decrease substantially.
Help them connect with others along with support resources (like the 988 Lifeline). You may want to ask if they are currently seeing a mental health professional or if they have done so in the past.
Follow up with the person via text or call in the days/weeks that follow and ask if there's anything they need. The simple act of reaching out reduces the risk of suicide.
For more information, visit bethe1to.com. Arkansas Blue Cross members have 24/7/365 access to New Directions Behavioral Health. New Directions has our members' behavioral health safety as their number one priority. Members in Arkansas can call 1-877-801-1159to speak with a licensed behavioral health clinician who can help them access community-based behavioral health services. New Directions follows best practices and screens all callers for safety using evidence-based tools to ensure members receive the help they deserve. While connected, in-the-moment support is offered to members, such as creating a safety plan and connecting members to care with network providers and facilities.
One last thing you can do? Share this article with your friends and family. By doing so, you help raise awareness about suicide prevention. If you're having doubts about reaching out to someone, Dr. Price says that asking about suicide is not going to plant the idea in their mind. Instead, you are normalizing the conversation. "Be open to discussion and let the person know help is available. You could save a life."
If you or a loved-one is in crisis, please contact one of the numbers below. Counselors are available to help you 24/7.
Important Crisis Phone Numbers:
National Suicide Prevention Lifeline: 988 or (800) 273-8255
Veteran Support Line: 988 then press 1
Crisis Text Line: Text HOME to 741741 from anywhere in the USA.
In Arkansas, AR ConnectNow: 800-482-9921 is available 24 hours a day, 7 days a week. Free to use.
Resources:
Arkansas Blue Cross Members:
New Directions Behavioral Health: 1-877-801-1159, connect with therapists in your community
New Directions Behavioral Health (EAP): 1-800-624-5544
(EAP is not covered on all plans. Check with your HR administrator or sign in to blueprintportal.com for covered services available to you.)