Better Healthcare
The therapist is in. 24/7.
How virtual care offers workplace solutions for behavioral and mental health
Today's workforce faces a range of mental and behavioral health issues including stress, anxiety, depression and substance use disorder. Millennials, soon to be the largest segment in the workplace, are especially at risk. For them, major depression rose by 31 percent from 2014 to 2017, becoming more prevalent than hyperactivity and type 2 diabetes.1
Employers have a vested interest in getting employees of all ages the help they need and are beginning to add or expand mental health and behavioral solutions.
Mental health issues reduce employee productivity and cost money
The cost of direct mental health treatment, at $26 billion, might seem like a lot of money. But that amount is nowhere near what employers pay for mental health-related absenteeism, estimated at $51 billion.2 And you can't ignore the impact mental or behavioral health conditions have on overall health and wellbeing, which directly affect how able and engaged employees are at work.
Most Americans with major depression also have one or more serious chronic health conditions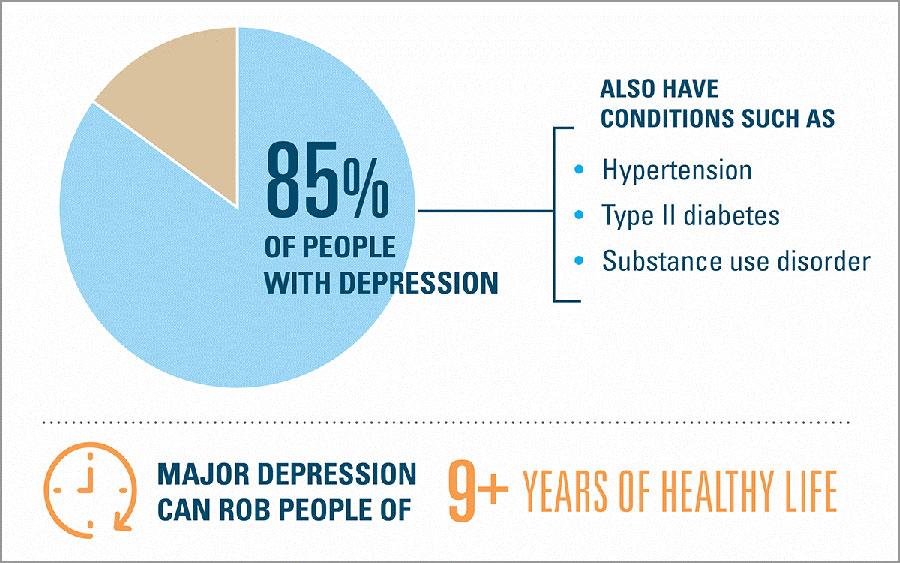 The need for mental health support spurs innovative solutions
Nearly six in 10 Americans are seeking or wanting to seek mental health services either for themselves or for a loved one, yet nearly half have to drive more than an hour round trip for treatment.3 Innovative solutions, many of which leverage technology, are catching up with the growing demand for access to mental health care. Below are key areas to watch.
Virtual Health. A majority of employers already offer virtual health services for behavioral health, allowing employees to speak with an emotional health coach right away. Telehealth is ideal for millennials because they're much more likely to use technology to interact with the healthcare system in general.4 Employees who live in "mental health deserts" or are uncomfortable walking into a therapist's office can also benefit from an online or virtual visit with a mental health provider.
Wearables. As more companies and start-ups enter the wearables space, we'll likely see the function of them evolve from tools to track activity, heart rate or sleep to more personal, two-way interactions. For example, a care provider could assist an employee in managing depression, substance use disorder or other health issues through a wearable device.
AI. Amazon's new HIPAA-compliant Alexa allows additional types of information, such as patient health records, to be securely transmitted. Most of the emerging HIPAA-compliant innovations are around physical health, such as recognizing cardiac arrest during 911 emergency calls.6 But it's easy to see how receiving behavioral health information via Alexa has the potential to help employees manage stress and other conditions.
Making behavioral and mental health innovations work for your organization
When adopting innovations to help your employees manage stress or mental health conditions, here are a few tips to keep in mind:
Take mental health seriously. Consider it to be just as important as other medical conditions.
Help remove the stigma of getting help by educating your employees and being open about mental health conditions. If your company offers telebehavioral solutions, promote it in company newsletters, text messages, emails and on your intranet. Senior executives could consider including a message on how to contact mental health services in their internal email signature.
Promote better mental health in your work environment. Consider healthy food and drink options, free exercise classes, meditation or stress reduction training, and if possible, flexible work hours.
Want to learn more