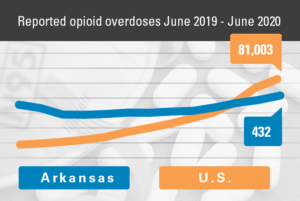 The COVID-19 era has not been easy on anyone, but the virus—with its stressors and social isolation—has created an additional struggle for people who battle opioid use disorder. According to first-glance data from 2020, opioid overdose deaths are up close to 10% in Arkansas from June 2019 to June 2020.[1]
The Centers for Disease Control and Prevention's (CDC) provisional data—a 12-month rolling total of reported drug overdoses—isn't a complete picture and can see some changes, but it gives us the best look yet at how the pandemic has affected our state's opioid crisis. As many feared, it has made the situation worse. If the CDC's 9.3% increase looks bad for Arkansas, it's even worse for the United States overall, which marked a 21.3 percent increase in opioid overdose deaths and more than 81,000 total deaths from June 2019 to June 2020.[2]
The pandemic bump in opioid use disorder happened as the state's response began to produce cause for optimism. Arkansas, for instance, saw a noteworthy reduction in the number of opioid overdoses in 2019, due in large part to state and private efforts to educate Arkansans about the dangers and warning signs of opioid addiction, and prepare them on how to respond in the event of an overdose.
In March 2020, as the pandemic began in the United States and stricter measures were taken to flatten its trend line, the state's provisional number in opioid overdose deaths saw its first double-digit increase in more than a year.[3] Since then, there's been a steady increase in reported deaths.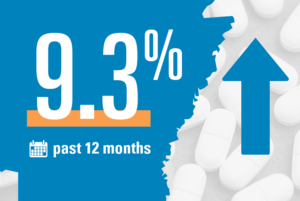 While COVID-19 is dominating both state and national public health conversations at the moment, we encourage you as an employer to remember you may have employees struggling with opioids in tandem with the pandemic. Opioid use disorder affects all populations and demographics.
Many employees are now furloughed or working from home and are finding their new routines difficult. Social isolation, increased stress levels and other pandemic-related issues can make life—and dealing with an opioid problem—more challenging. Employers can play a role in helping their employees who find themselves in this difficult situation.
Employers can play a role in helping their employees. Make communication and wellness check-ins a priority from the top down. Encourage your employees to use their Employee Assistance Program, if available. Make sure they feel supported at work, even if everyone isn't in the office.
Together Arkansas
In 2019, we formed a coalition with Arkansas State Chamber of Commerce and AFMC to give Arkansas employers tools to help foster a healthier, drug-free workforce. The coalition, called Together Arkansas, provides employers with a free five-module course that focuses on legal and operational issues an employer must consider when dealing with an employee's use of opioids or other illegal substances.
The site also includes a prevention and treatment resource guide and other resources. Together Arkansas is a trusted resource for Arkansas employers looking for help in appropriately responding to employees who have an opioid-related issue. Together Arkansas has been endorsed by both Arkansas Attorney General Leslie Rutledge and Arkansas Drug Director Kirk Lane. Check out the site and free modules.
What we're doing for our clients
At Arkansas Blue Cross, we're taking steps to cut down on substance-use disorder. We use our medical, pharmacy and data-management tools to monitor and prevent over-prescribing and diversion of prescription opioids and other controlled substances. We also provide case management, behavioral health and medication-assisted treatment support for members who have our pharmacy benefits and even more help for those whose benefits include case management. Here are some of our initiatives to help.
Quality-of-care programs
Employing a substance use prevention coordinator
Communicating with prescribers about patients on drug combinations that could produce overdose
Case management for members who meet certain thresholds
Monitoring opioid usage on a monthly basis to identify outliers and follow new drug trends in the data
A member-provider letter outreach to provide education and opportunity for support services
Creating a collaborative opioid task force to coordinate companywide efforts
Implementing a "lock-in" program to decrease abuse by members who visit multiple pharmacies
Representation at the Prescription Drugs Abuse Prevention Summit
Quantity limits/utilization management/plan design
Limiting acute pain patients to 7-day prescriptions
Decreasing quantity limits for chronic pain patients
Requiring patients to use immediate-release opioids first, before moving to extended release
Removing prior authorization requirements from Suboxone™
Removing member cost-sharing from naloxone for fully insured health plans
Network initiatives
Providing reporting around opioids to Collaborative Heath Initiative and other physician partners
Requiring that physicians register with the prescription drug monitoring program (PDMP) as a condition of participation in our networks
Blue & You Foundation for a Healthier Arkansas
Providing grants that have helped equip thousands of police officers and first responders with naloxone kits
Providing grants to fund prescriber education
Reference:
[2] Ibid
[3] Ibid