Better Healthcare
Study finds Arkansas Blue Cross dental program lowers healthcare costs
Arkansas Blue Cross and Blue Shield partnered with the Mayo Clinic to study the impact of our Dental XtraSM program on member health and medical cost. Mayo Clinic researchers examined medical claims data over five years from diabetes and CAD members enrolled in the program. Dental Xtra provides additional dental benefits to people with select chronic conditions impacted by oral health.
The study found that members enrolled in Dental Xtra experienced 25%-36% lower inpatient healthcare costs and achieved better health outcomes when they followed the program's preventive dental care protocols. Individuals who missed a year of program participation saw an immediate increase in medical costs.
The manuscript of the study has been published in the Compendium of Continuing Education in Dentistry, a leading dental academic journal.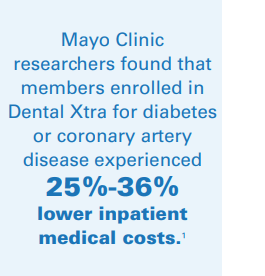 "The study exceeded our expectations," says Mark Jansen, vice president and chief medical officer. "Over the years, we've seen firsthand the degree to which Dental Xtra's preventive and periodontal services, outreach and education, and integrated medical care programs have helped improve the health of our members. Our work with the Mayo Clinic has shown that the program can also help drive significant medical cost savings."
The study also confirms the benefits of medical-dental integration, which Arkansas Blue Cross is uniquely positioned to deliver. Dental Xtra is included in all fully insured Arkansas Blue Cross dental plans.
With the prevalence of these conditions increasing year over year, the importance of offering your clients dental coverage that includes proactive, coordinated care can't be overstated.
¹Borah, BJ., Brotman, SG., Dholakia, R., Dvoroznak, S., Jansen, MT., Murphy, EA., Naessens, JM. (2022, March) "Association Between Preventive Dental Care and
Healthcare Cost for Enrollees With Diabetes or Coronary Artery Disease: 5-Year Experience." Compendium 2022:43(3):130-139.