During the coronavirus outbreak, dental practices and their patients are prudently postponing routine or elective dental services. But what if you have a dental problem that can't wait?
As always, if your employees have a dental emergency, please have them contact their dentist. Participating dentists provide emergency services to patients, so your employees will be able to get dental care if they have an urgent need.
Additionally, in response to the COVID-19 outbreak, all fully insured members have full coverage (at no cost to the member) until at least May 15, 2020, for teledentistry.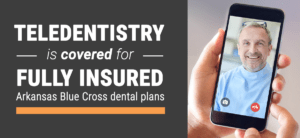 What is teledentistry?
If your employees have a dental problem but aren't sure if it is something that needs to be fixed right away, they might call or video chat with their dentist to assess their condition and develop a plan to manage or treat it.
That is teledentistry, and it's temporarily covered for people covered by a fully insured employer's Arkansas Blue Cross dental plan.
Be aware that email and text messaging are not considered teledentistry and are not covered.
So the rule of thumb for your employees is to stay home and avoid routine dental care during the coronavirus outbreak, but if there is a dental emergency, your employees should call the dentist.
** This benefit is for fully insured groups only **